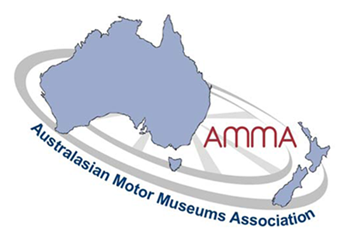 The Australasian Motor Museum Association was formed in October 2008.
The main purpose of the association is as follows:
The AMMA has been formed with the objective of promoting the common interest of persons engaged in or who support the collection, preservation and promotion of motor vehicles and related memorabilia for public display, educational and research purposes.
To act as a public voice on behalf of members.
Promote specific displays, exhibitions and events presented by members.
Develop and deliver operational cost efficiencies for members.
Advise members on Government related issues, regulations, grants and assistance.
To procure and provide information and establish an information sharing network for the benefit of members.
To establish tourism strategies in conjunction with members.
To act on any other matter considered by the members to be mutually beneficial.
New members are always welcome. Please visit our 'Member Info' page for more details.
Documents and Media Releases
Current Committee Members
CHAIR – 0412 539 634
Colin Kiel – 4C's Motor Museum – Vic
VICE CHAIR – 0418 402 478​
Belinda McMartin – Museum of Fire, Penrith, NSW
SECRETARY – 0438 154 748
Ian Bone: PO Box 64 Mt Ommaney – Qld
Email: Ian@qldmotorsportmuseum.au
TREASURER – 0429 682 465
Maxine Kiel – 4C's Motor Museum
Email: maxinekiel@hotmail.com
QLD Delegate – 0414 752 203
Carl Amor – Gold Coast Motor Museum
NSW Delegate –
Belinda McMartin – Museum of Fire, Penrith, NSW
ACT Delegate –
Vacant
VIC Delegate – 0411 465 098
David Peck – The Motorist
TAS Delegate – 0407 881 288
Daryl Meek
SA/NT Delegate – (08) 8568 4009
Matthew Lombard – National Motor Museum
WA Delegate –
Pat O'Callahan – Motor Museum of WA
New Zealand Delegate
Vacant
World Forum of Motor Museums Delegate –
Colin Kiel
Roving Ambassador – 0412 539 634
Colin Kiel – 4C's Motor Museum